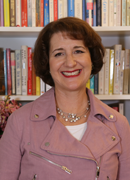 Lisa Honig Buksbaum, MAPP, MBA
Division President
Lisa is a passionary: a visionary driven by great passion and action. An author, intuitive healer, well-loved inspirational speaker, and expert workshop leader and facilitator. More
CEO & Founder, Soaringwords
Lisa has shared her wisdom with thousands of people throughout the world. Three experiences with death and illness in her family during a ten-month period motivated her to launch Soaringwords, a not-for-profit organization devoted to inspiring children, families, adults, seniors, and health care professionals to take active roles in self-healing to experience greater physical, emotional, and mental well-being.
Since 2001, Lisa has shared Soaringwords' SOARING into Strength Positive Health Initiatives with more than 500,000 people. She is the author of SOARING into Strength: Love Transcends Pain, her debut memoir.
Lisa graduated with honors from The University of Pennsylvania; holds an MBA in Marketing from Columbia University Graduate School of Business; and a Masters of Applied Positive Psychology from The University of Pennsylvania. She has a certificate in Narrative Medicine from Columbia University College of Physicians and Surgeons, and a certificate from the American Institute for Mental Imagery.
Lisa is President of IPPA Health and Wellbeing Division; and the Board of the Coincidence Project. She's been featured as an expert on ABC News, Fortune Small Business, USA Today, Delta Sky, and CEO to Watch in The Chronicle of Philanthropy. She won a Lives That Make a Difference Award from A&E Networks, a National Mothering That Works Award from Working Mother Media, inducted into YMCA Academy of Women Achievers Hall of Fame. She was on the board of Advertising Women of New York, the leading organization for executive women in communications.
Lisa has been a keynote speaker, moderator, and panelist at IPPA; European Positive Psychology Conference; Canadian Positive Psychology Conference; International Positive Education Network and led workshops as scholar-in-residence and at grand rounds at leading universities, medical schools, and nursing schools. She has led award-winning employee-engagement professional development workshops at Fortune 500 companies including Accenture, Cigna, Cisco, Deloitte, Lilly, Meta, Google, Johnson & Johnson, JPMorgan Chase, New York Life, SONY, Verizon, and Viacom. Lisa lives in New York City with her husband Jacob. Her pride and joy are her two grown sons Jonathan and Joshua, daughter-in-law Evelyn, and adorable grandbaby Charlotte. She gets her energy from swimming each day and connecting with people in fun and meaningful ways.