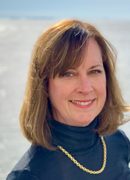 James O. Pawelski Positive Catalyst Award

The James O. Pawelski Positive Catalyst Award is presented to an IPPA member who:
Advances change for the Association
Has committed their service to IPPA for a sustained period of time
Has mobilized and catalyzed others to contribute to IPPA
Has Helpted to build and contribute to the IPPA community
Can show concrete outcomes and impact for the Association based on their efforts
---
Liz Corcoran
Impact Performance Group
She has been a member of IPPA for over 10 years. Liz has attended five World Congresses. She has served as a World Congress volunteer.
More
Inspired by the work of Tal Ben-Shahar and Marty Seligman, Liz has been incorporating positive psychology into her customized communication skills training solutions in her current job as Senior Vice President and Principal of Impact Performance Group, Inc. Liz specializes in research, program design, and development of solutions that enable organizations to deepen client relationships and ignite employee engagement. Over the past nineteen years, Liz has worked extensively with Fortune 500 companies to enhance sales productivity, increase service effectiveness, and enable leadership and coaching skills in financial markets, manufacturing, healthcare, and retail industries. Her consulting engagements involve in-depth exploration of current sales process and practices, performance enhancement opportunities, and strategic interventions that achieve tangible returns on investment. Liz brings a wealth of experience, creativity, and energy to the team. Her designs integrate emotional intelligence and positive psychology into all communications skills processes. Liz specializes in C-suite conversations to execute strategy by leveraging an organization's greatest asset of its people to differentiate itself in the marketplace.
Liz is also an active member of Association of Training and Development(ATD). She holds a Bachelor's of Science in Marketing from Boston College and a Masters of Business Administration from New York University in Finance and Accounting. She resides in Wellesley, Massachusetts with her husband, Joe, and her three children. Her son Connor is an IPPA member.