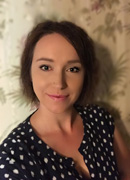 Willow Saloum, Ph.D.
President
Willow Saloum, Psy.D. L.P., is a Senior Psychologist- Specialist working for the Department of State Hospitals- Coalinga (DSH- C), in Coalinga, California. More
She has worked with DSH-C since August 2011, when she began her clinical pre-doctoral internship. She is currently a licensed Clinical Psychologist in the state of California. She received a doctorate from the American School of Professional Psychology at Argosy University in Clinical Psychology in 2012; her doctoral research interest was on schemas found in adult males with histories of childhood sexual assault. In post-doctoral work she has focused on treatment group program development with members of the DSH-C Sex Offender Treatment Program (SOTP) committee to develop a treatment manual and utilize psychotherapy that encourages strength based treatment within the Risk-Need-Responsivity model of sex offender treatment.
Her interests currently lie in forensic mental health, positive psychology, and innovating ways of bringing those together in a meaningful manner. She provides treatment to offenders who are non- voluntarily sent by the courts to inpatient facilities for treatment after finishing their prison sentences. She has run a positive psychology treatment group, in one form or another, at DSH-C since she was an intern. She has been working on formalizing a treatment manual and milieu interventions for patients within DSH-C. She continues to be very interested in helping patients live the best lives they can, reintegrating into society after they are released, and being able to live a life of meaning and purpose, operating with the belief that everyone has strengths and positive qualities and that it's our job as clinicians to help each person reach their personal potential.
She had the honor of presenting at the 2013 and 2015 IPPA conferences, as a poster presenter and speaker respectively, additionally has co-presented at the 2014 ATSA conference and has been invited to present at the ATSA conference this fall in Orlando Fl. All of the presentations surrounded the topic of Positive Psychology and forensic mental health. Willow and two of her colleagues have been working diligently on this topic and have gotten very positive feedback from patients, lawyers, evaluators, professionals, and other staff. She is very excited to see what comes from these efforts in the future. She is also in the beginning stages of exploring the vitality of positive psychology in forensic practice on a DSH statewide level.
Willow is an aspiring writer. She and a colleague are currently the process of trying to get a positive psychology forensic mental health treatment manual published. Having finished the written work they are currently in the process of getting the manuscript accepted with a publisher.